airpointer®
QUICK START GUIDE
SMART
COMPACT
FLEXIBLE
TURN - KEY
TYPE APPROVED
AIR QUALITY MONITORING
This is a quick start guide for your airpointer. It explains the important steps for the first operation of airpointer. Please read all the steps carefully before starting the installation of the instrument. If you need more detailed guidance and information please download the 'airpointer Manual' .
Or you can also download the PDF - Quick Start Guide here:
Safety Messages
Step 1 - Unpacking
Step 2 - Checking
Step 3 - Mounting
Step 4 - First Start Up
Step 5 - User Interface
Step 6 - Calibration
The App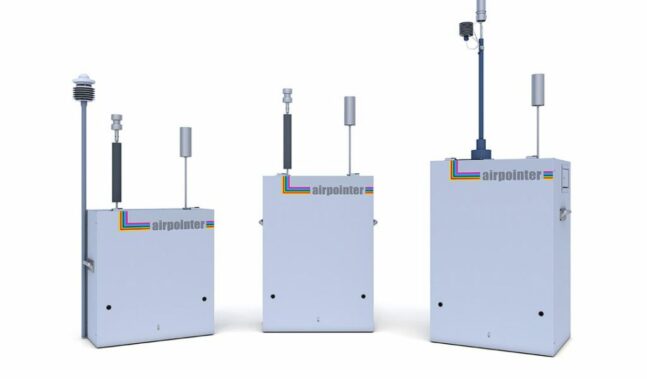 Throughout this guide please take the safety signs seriously. Here are the meanings of the safety signs you will see in this guiding book.

GENERAL SAFETY HAZARD: Refer to the instructions for details on the specific hazard.

CAUTION: Electrical shock hazard.

ATTENTION: Sharp surface.

ATTENTION: Device is heavy. To avoid personal injury, use several persons to lift and carry it.

CAUTION: Hot Surface Warning.

CAUTION: Ozone is a toxic gas.

CAUTION: Toxic gas! Take precautions!

ATTENTION: UV light! May cause injuries.

CAUTION: Vacuum inside the device!

ATTENTION: Do NOT dispose with ordinary trash!